Enabling city dwellers to better understand and valorise intangible and built heritage together: Digital tools and practices.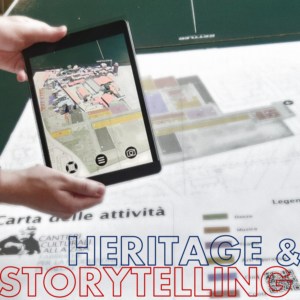 Workshop – Lourinhã – 10 – 12 October, 2022
The workshop in Lourinhã is an activity of the Working Group Digital Practices for the Study of Urban Heritage (UDigiSH) of the Dariah.Eric. The UDigiSH has been developing different activities in order to generate knowledge and hand-on experiences on how Digital Methods can support good practices in Heritage Preservation and Dissemination and the role of civil society. The workshop is organised together with the COST Action Dynamics of Placemaking, which will support the analysis of the benefits of storytelling to placemaking and the attachment of people to their space and heritage.
In the wake of the successful implementation of the UDidiSH workshop in 2021 in Palermo, Italy, this year's event, which was granted support from DARIAH ERIC (through the DARIAH WG Grants 2022 Call) will bring the WG to Cordoba/Spain and Lourinhã/Portugal.
The 2022 version of the WG UDigiSH workshop will take place in October in two locations in consecutive dates; first, we will be visiting the narrow streets of Cordoba, Spain, to study the highly valuable heritage of the patio houses, where the PAX collective will help us delve into the significance of local solutions to climate adaptation, as developed through the centuries by vernacular architecture in Mediterranean cities; next, we will be crossing the border to come to Lourinhã, a small village full of history and heritage. In Lourinhã, the WG UDigiSH together with the City Council and the Aspiring Geoparque Oeste will support the plans of the community to create a Lime Route (Rota do Cal), linking the different sites of the lime production (quarry and kilns) to its use for whitewashing buildings (the Municipal Council, church and museum). The workshop in Lourinhã is focused in collecting and analysing narratives of people around the lime use and production and the heritage sites. It will combine the use of digital tools to inspire residents and tourists to share their narratives, memories and stories.
The workshop will be organised with a strong support of the City Council of Lourinhã, the Aspring Geoparque Oeste and with collaboration of the local stakeholders. The local organiser is the Universidade Lusófona with support of the LNEC – Laboratório Nacional de Engenharia Civil.